Simulação Numérica do Escoamento Bifásico Óleo-Água em um Duto Horizontal Empregando o Método Smoothed Particle Hydrodynamics
Palavras-chave:
Fluidodinâmica computacional, Escoamentos bifásicos, Smoothed Particle Hydrodynamics
Resumo
O código numérico DualPhysics, baseado no método de partículas lagrangiano e livre de malha Smoothed Particle Hydrodynamics, foi empregado na resolução do escoamento bifásico óleo-água isotérmico e ligeiramente compressível. São resolvidas as equações da continuidade, do momentum e a equação de estado de Tait modificada é empregada na determinação da pressão. Na validação do código numérico, considerou-se o escoamento de Couette de dois fluidos com massa específica e viscosidade diferentes. Como exemplo de aplicação, resolveu-se numericamente o escoamento bifásico água-óleo isotérmico e bidimensional, onde os fluidos são misturados através de uma junção em Y de 45 graus colocada na entrada do duto horizontal. Os resultados mostraram o potencial de uso do código numérico, embora ainda algumas modificações e alterações sejam necessárias para que ele possa ser utilizado na resolução de problemas práticos da engenharia de óleo e gás.
Downloads
Não há dados estatísticos.
Referências
G. Liu and M. Liu, Smoothed Particle Hydrodynamics: A Meshfree Particle Method. Singapore: World Scientific, 2003.
L. Lucy, "A numerical approach to the testing of the fission hypothesis," The Astronomical Journal, vol. 82, pp. 1013–1024, 1977. Available at: https://ui.adsabs.harvard.edu/abs/1977AJ.....82.1013L
R. Gingold and J. Monaghan, "Smoothed particle hydrodynamics: theory and application to non-spherical stars," Monthly Notices of the Royal Astronomical Society, vol. 181, pp. 375–389, 1977. Available at: https://doi.org/10.1093/mnras/181.3.375
O. Shoham and S. of Petroleum Engineers of AIME., Mechanistic Modeling of Gas-liquid Two-phase Flow in Pipes. Society of Petroleum Engineers, 2006.
A. Hasan and C. Kabir, Fluid Flow and Heat Transfer in Wellbores. United States: Society of Petroleum Engineers, 2016.
T. Douillet-Grellier, F. De Vuyst, H. Calandra, and P. Ricoux, "Simulations of intermittent two-phase flows in pipes using smoothed particle hydrodynamics," Computers & Fluids, vol. 177, pp. 101–122, 2018. Available at: https://doi.org/10.1016/j.compfluid.2018.10.004
C. Alvarado-Rodríguez, J. Klapp, J. Domínguez, A. Uribe-Ramirez, J. Ramírez-Minguela, and M. Gómez-Gesteira, Multiphase Flows Simulation with the Smoothed Particle Hydrodynamics Method. Springer International Publishing, 2019. Available at: http://dx.doi.org/10.1007/978-3-030-38043-4
J. Slattery and A. Varma, Advanced Transport Phenomena, ser. Cambridge Series in Chemical Engineering. Cambridge University Press, 1999.
C. A. D. Fraga Filho, Smoothed Particle Hydrodynamics: Fundamentals and Basic Applications in Continuum Mechanics. Springer, 2019.
A. Mokos, "Multi-phase modelling of violent hydrodynamics using smoothed particle hydrodynamics (sph) on graphics processing units (gpu)," Ph.D. dissertation, School of Mechanical, University of Manchester, Manchester, United Kingdoom, 2014. Available at: https://ethos.bl.uk/OrderDetails.do?uin=uk.bl.ethos.617969
J. Monaghan and J. Lattanzio, "A refined particle method for astrophysical problems," Journal of Astronomy and Astrophysics, vol. 149, pp. 135–143, 1985. Available at: https://ui.adsabs.harvard.edu/abs/1985A&A...149..135M
M. L. Góes, "Estudo de interfaces livres empregando o método Smoothed Particle Hydrodynamics (SPH) e as equações de estado de van der Waals e de Martin," Ph.D. dissertation, Polytechnic Institute, Rio de Janeiro State University, Nova Friburgo, Brazil, 2016. Available at: http://www.bdtd.uerj.br/handle/1/13703
N. J. dos Santos Carvalho, "Simulação numérica do escoamento bifásico em um duto horizontal empregando o método smoothed particle hydrodynamics," Master's thesis, Polytechnic Institute, Rio de Janeiro State University, Nova Friburgo, Brazil, 2021. Available at: http://www.bdtd.uerj.br/handle/1/16413
B. Lafaurie, C. Nardone, R. Scardovelli, S. Zaleski, and G. Zanetti, "Modelling merging and fragmentation in multiphase ows with SURFER," Journal of Computational Physics, vol. 113, no. 1, pp. 134–147, 1994. Available at: https://doi.org/10.1006/jcph.1994.1123
A. Crespo, J. Domínguez, B. Rogers, M. Gómez-Gesteira, S. Longshaw, R. Canelas, R. Vacondio, A. Barreiro, and O. García-Feal, "DualSPHysics: Open-source parallel CFD solver based on Smoothed Particle Hydrodynamics (SPH)," Computer Physics Communications, vol. 187, pp. 204–216, 2015. Available at: https://doi.org/10.1016/j.cpc.2014.10.004
R. Xu, P. Stansby, and D. Laurence, "Accuracy and stability in incompressible SPH (ISPH) based on the projection method and a new approach," Journal of Computational Physics, vol. 228, no. 18, pp. 6703–6725, 2009. Available at: https://doi.org/10.1016/j.jcp.2009.05.032
L. Verlet, "Computer "Experiments" on Classical Fluids - Thermodynamical Properties of Lennard-Jones Molecules," Physical Review, vol. 159, pp. 98–103, 1967. Available at: https://link.aps.org/doi/10.1103/PhysRev.159.98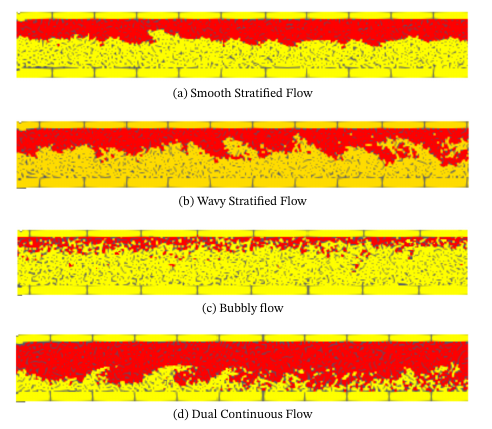 Downloads
Como Citar
Carvalho, N., de Souza Boy, G., & Pedro Amaral Souto, H. (2021). Simulação Numérica do Escoamento Bifásico Óleo-Água em um Duto Horizontal Empregando o Método Smoothed Particle Hydrodynamics. VETOR - Revista De Ciências Exatas E Engenharias, 31(2), 14–24. https://doi.org/10.14295/vetor.v31i2.13761