BIOLOGICAL PROPERTIES OF Eugenia uniflora L. ESSENTIAL OIL: CHEMICAL COMPOSITION AND ANTIMICROBIAL ACTIVITY
Palavras-chave:
Brazilian Cherry, Minimum inhibitory concentration, Sesquiterpenes.
Resumo
Various pathologies that compromise public health are of bacterial origin. Among the species of importance to human health is Salmonella Typhimurium gastroenteritis agent, Enterobacter aerogenes and Pseudomonas aeruginosa, pathogens causing nosocomial infections in various organs. The Eugenia uniflora L., popularly known as Brazilian cherry, belonging to the Myrtaceae family is a tree native to the Brazilian Atlantic Forest found from Minas Gerais to Rio Grande do Sul. According to the popular medicine the infusion of its leaves has antimicrobial activity, astringent, antidiarrheal, carminative, diuretic, antireumatic, antipyretic, hypotensive, reducing blood cholesterol and uric acid in the urine controller. Based on the above, the study aimed to obtain the essential oil of Surinam cherry sheets, perform chemical characterization of the compounds present in the oil and evaluate the in vitro antibacterial activity on strains of Enterobacter aerogenes, Pseudomonas aeruginosa and Salmonella Typhimurium. To evaluate the antibacterial activity, we used the disk diffusion test, determination of Minimum Inhibitory Concentration (MIC) and Minimum Bactericidal Concentration (MBC). Oil yield obtained in the extraction process was 0.65% and bactericidal action was found facing the strains of Enterobacter aerogenes and Salmonella Typhimurium with 3.125% MIC. It has been no biological action of the essential oil on Pseudomonas aeruginosa. Thus, it can be concluded that the essential oil of cherry is an alternative medical means with antibacterial action on Enterobacter aerogenes and Salmonella Typhimurium is considered possible natural source for the development of new drugs.
Downloads
Não há dados estatísticos.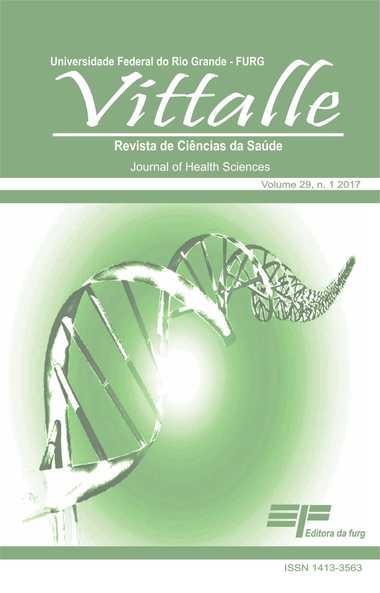 Downloads
Como Citar
Becker, N. A., Volcão, L. M., Camargo, T. M., Freitag, R. A., & Ribeiro, G. A. (2017). BIOLOGICAL PROPERTIES OF Eugenia uniflora L. ESSENTIAL OIL: CHEMICAL COMPOSITION AND ANTIMICROBIAL ACTIVITY. VITTALLE - Revista De Ciências Da Saúde, 29(1), 22–30. https://doi.org/10.14295/vittalle.v29i1.6267
Licença
A partir do momento que aceitos para publicação, os artigos passam a ser propriedade da Vittalle, sendo vedada tanto a reprodução – mesmo que parcial em outros periódicos – seja no formato impresso ou eletrônico, bem como, a tradução para outro idioma sem a autorização da Editoria Científica da Vittalle.