INCREASED 5'NUCLEOTIDASE ACTIVITY IN THE BLOOD SERUM OF BRAIN TUMOR PATIENTS
Palavras-chave:
Brain tumor. Glioma. Nucleotides. 5'nucleotidase.
Resumo
Extracellular nucleotides are degraded by several ecto-enzymes present on the cell membrane, and also by soluble enzymes in the bloodstream. Previous work has already found elevated 5'-nucleotidase activity in the serum of patients with head and neck cancer, but very few reports are available on the involvement of the nucleotidases in brain tumor development. The aim of this study was to evaluate the hydrolysis of adenine nucleotides in the blood serum of brain tumor patients. Blood samples were obtained from 15 patients between 17 and 76 years old with brain tumors, and from 25 healthy individuals (control). The pathological status of each tumor was confirmed by histology. Brain tumors included in this study were high-grade gliomas (glioblastoma and anaplastic astrocytoma) and low-grade gliomas (low-grade astrocytoma and meningioma). For the estimation of nucleotidase activity we used ATP (1,5mM), ADP (1,5mM) and AMP (2,0mM) as substrates. The products of enzymatic analysis were measured by spectrophotometer, and the amount of inorganic phosphate (Pi) liberated was determined by the method of malachite green. The results showed that, in comparison with controls, AMPase activity was significantly increased (p<0.05) in high-grade intracranial neoplasms, while there were no significant differences in ATPase and ADPase activities. In conclusion, the enzymatic analyses of adenine nucleotides in patients with brain tumors can be an interesting tool for following the progression of the disease.
Downloads
Não há dados estatísticos.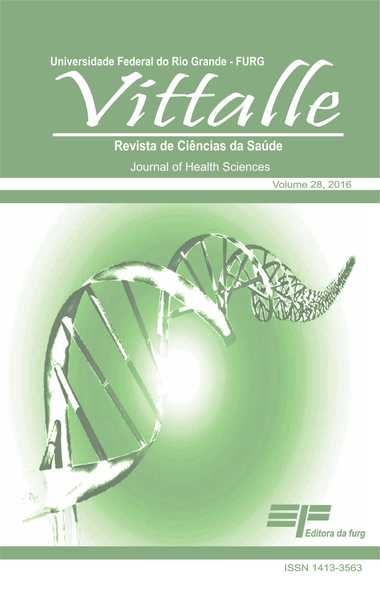 Downloads
Como Citar
Engroff, P., Sgnaolin, V., Azambuja, A. A., Viola, F., Battastini, A. M., & Morrone, F. B. (2016). INCREASED 5'NUCLEOTIDASE ACTIVITY IN THE BLOOD SERUM OF BRAIN TUMOR PATIENTS. VITTALLE - Revista De Ciências Da Saúde, 28(1), 102–109. Recuperado de https://periodicos.furg.br/vittalle/article/view/6210
Licença
A partir do momento que aceitos para publicação, os artigos passam a ser propriedade da Vittalle, sendo vedada tanto a reprodução – mesmo que parcial em outros periódicos – seja no formato impresso ou eletrônico, bem como, a tradução para outro idioma sem a autorização da Editoria Científica da Vittalle.